Art. 2762
T-FAL® sealing profile 10-BS
Short description:
Plaster sealing strip with paintable contact limb for sticking to subframes/frames in order to form an airtight joint on plaster. The foam adhesive tape absorbs movements between the plaster and the subframe/frame, the roughened contact limb can be painted over.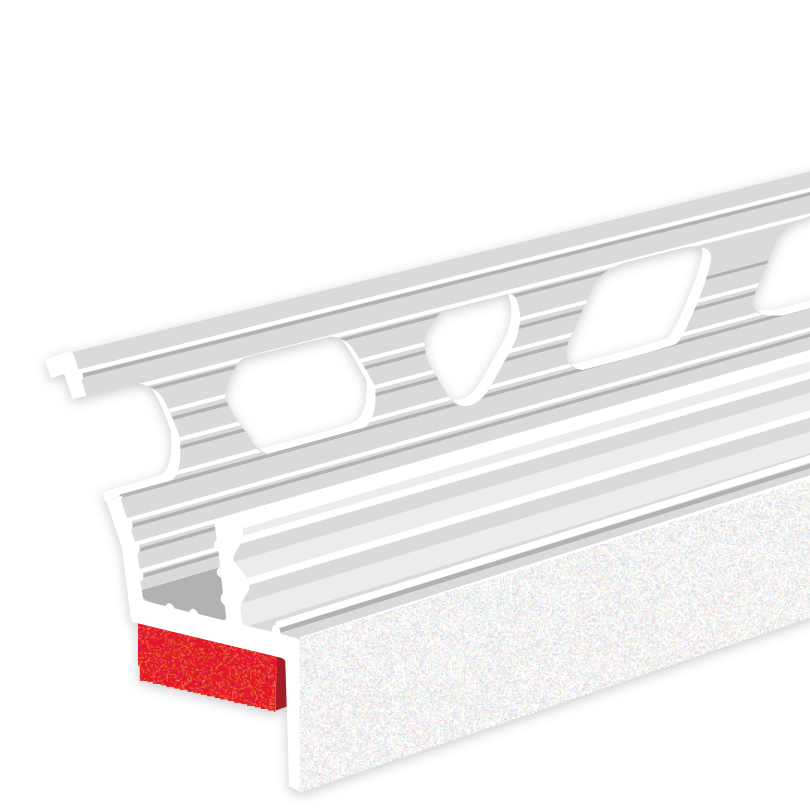 Product description
Description:
Self-adhesive T-FAL® sealing profile BS with a paintable contact limb, a perforated mounting limb for improved plaster integration, a second pull-off edge for base/finishing plaster and red coloured foam adhesive tape.
For the areas of use of the T-FAL® sealing profiles, refer to the current T-FAL® application table.
Briefly:
Paintable contact limb
Perforated mounting limb
10 mm wide
3 mm foam adhesive tape (red)
Quality:
Airtight in accordance with DIN 4108, EnEV [Energy Saving Ordinance], Installation Guidelines (RAL Quality Assurance Association), tested and approved in accordance with DIN EN 12114
Meets all requirements in combination with a T-FAL® exterior sealing profile (green) or a driving rain proof, water vapour permeable exterior seal.
"innen dichter als außen" in Bezug auf die Wasserdampfdiffusion, gemessen nach EN ISO 12572 (sd-Wert > 100 m)
Complies with ÖNORM B 5320 / class 1B
Product data
| | Art.-No. | Length | Packaging Unit: | Pallet Unit: |
| --- | --- | --- | --- | --- |
| | 2762250 | 250 cm | 60 bars / bundle = 150 rm | 60 bundles / pallet = 9000 rm |
Downloads
Technical data sheet

PDF 0,3 MB

Download

Processing instructions

PDF 2,3 MB

Download

Audit report ift 105 30533

Air tightness, Durability
PDF 1,5 MB

Download

Audit report ift 105 41369/1 R1

MO-01/1 – Movement absorption, Resistance
PDF 1,4 MB

Download

Audit report ift C-261 42191-1

Fire classification
PDF 0,7 MB

Download

Audit report ift 11-001557-PR01

Compatibility with adjacent building materials
PDF 0,7 MB

Download